To Users of the EOS C300 Mark II Digital Cinema Camera
Regarding the Phenomenon of Skipped Frames in Footage Recorded in Slow Motion on the EOS C300 Mark II Digital Cinema Camera
Thank you for using Canon products.
We have become aware that there may be cases of skipped frames in footage recorded in slow motion on the EOS C300 Mark II Digital Cinema Camera.
We would like to offer our sincere apologies to customers who had been inconvenienced by this phenomenon. Canon will always strive to provide the highest quality products to ensure our products are used with confidence.
Phenomenon
​Footage recorded in slow motion in Slow & Fast Motion Recording Mode, in 4K and 2K/HD, and at all frame rates, may have skipped frames.
Note: This phenomenon does not occur for slow motion recording at the following settings:
​2K/HD recording at 59.94P & 50.00P frame rates
Affected Product
​EOS C300 Mark II Digital Cinema Camera with firmware version 1.0.0.1.00 are affected.
The camera's firmware version can be checked from [System Setup] on the menu.
Press the MENU button, then select [System Setup] → [Firmware] → [Camera].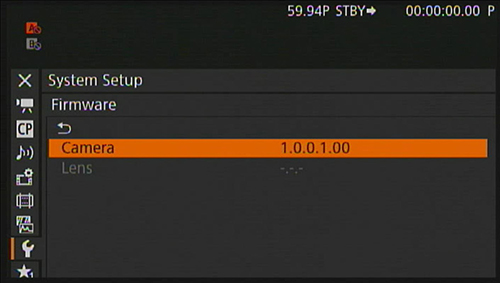 Menu Screen
Support
​We are planning to release new firmware that incorporates a fix for this phenomenon in early November. Once the new firmware is ready, we will make an announcement on our Web site.
Please contact your nearest Canon Service Center if you have any queries.